While delivering his keynote, "Update on the Digitalization of Airfreight", at the 7ConNetwork Virtual Networking Conference, Henk Mulder- Head Digital Cargo at IATA dropped some heavy information on freight forwarders who are still using paper-based processes.
If you are just thinking about taking your forwarding business digital- you're already late to the party.
Looking at the timeline of the logistics industry's digitalization progression, airfreight standards were put in place by IATA in the 1980's according to the paper-based processes which ran global trade. With the emergence of personal computers, IATA started looking at digitising and by the 2000's, the focus shifted completely from paper to Electronic Document Interchange (EDI). And by now, IATA has established comprehensive standards for EDI processes.
"So in the year 2000, the focus was entirely on every electronic document interchange, and the idea was that you would put your information there rather than paper. You put electronic documents, like an electronic airway bill, into a system of cargo community systems where data gets transferred from one party to the next- and everybody is happy, right? And we have standards for that. We call that e-Freight, but with lots of specific standards."
EDI is old news, we're already heading out of the API era
Jumping ahead 20 years later, we have moved past EDI and into Application Programming Interface (API). Currently, API is the big talk as the focus of digitization is on the idea of data connectivity. According to Mulder, this concept is "the flavour of the month", but will become obsolete in 10 years. We are already heading into the next step in digitalization: data spaces.
However, 95 percent of the logistics and transport industry is still using EDI currently. So there is much catching up to do. Mulder's message to the paper-based forwarding companies:
"If you're still working with paper, you're literally three generations behind, and in 10 years from now, you'll be four generations behind. So really, we all need to sort of get to this whole electronic data thing."
Why does the airfreight industry seem to be more advanced compared to ocean freight with regard to technology?
Responding to an audience question during his keynote, Mulder confirmed that technology in the air freight sector seems to be more advanced than the technology and digital solutions for the ocean freight sector.
"That doesn't mean there's no technology there, of course. There's fantastic solutions out there. But when you look at standards, there is a big difference. For example, the maritime sector has just rolled out the electronic bill of lading last year or the year before, give or take. We did an airway bill 20 years earlier. So there's a 20 year gap now. Why is that?"
He mentioned that he's already done a bit of thinking on the topic as looking closer at maritime, the difference surprised him. And here are the 2 reasons he believes the air freight industry has got a jump on digitalization when compared with maritime.
Reason #1: The speed at which cargo is transported
Air transport is fast. An airplane can transport cargo from, for example, Beijing to Los Angeles in just over 13 hours. That same route on a container ship is between 15-20 days (when you don't take into account the current port congestion crisis). The correlation between the speed of transit and the speed of information is the necessity of having all the documents upon arrival of the cargo to its destination.
"You put something in an airplane and five hours later, 12 hours later, 24 hours later, you are coming to another side of the world. And therefore, if your information travels, not at least as fast, you have a problem. Because your stuff arrives on the other side and you don't know what it is. You're missing airway bills and missing customs declaration or whatever. It has to be fast- so there was a necessity."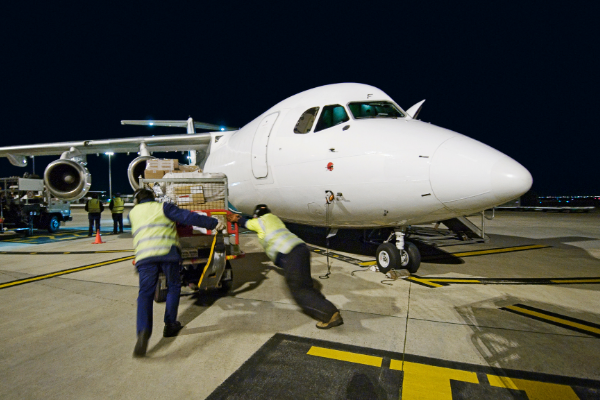 Reason #2: The need for cooperation over competition
As of 2018, there were 5,000 airlines in the world with an International Civil Aviation Organization (ICAO) code. Within IATA, there are nearly 300 airline members. And as anyone who has taken an international flight with layovers, you'll know that information between the airline operators must be shared in order for you to get on all the flights of your trip. Everything has to link somehow.
"We've had a need to cooperate, a real need to cooperate. And so the airline industry created IATA for the very purpose. And so it has always been a tremendous spirit of cooperation and that has translated itself into common standards for technology as well."
Maritime differs in this respect. With only less than 10 major players, they control the entire business process and have every reason to compete rather than cooperate.
Is your company's digitalization progress on par with your competitors?
If you're still dealing with paper, it's time to get up-to-speed asap. Doing so can be a time intensive and costly investment, however joining a digital forwarding network can help you minimize both costs. Check out 7ConNetwork's digital solutions that can help you reach the level your competition is already at overnight, plus give you the tools to grow successfully in this digital climate.