UNPRECEDENTED INFLUX OF IMPORTS PROLONGING THE LONG BEACH PORT CONGESTION
The twin ports of Los Angeles and Long Beach have experienced greater disruption than other US ports in the sense of vessel accumulation, jam-packed marine terminals, and extended truck turn times.
Because the L.A. Long Beach port congestion has largely been maintained by an relentless surge of imports coming in from the Asian trade route. The longer wait times are predominantly attributed to "a pandemic-driven buying surge unlike anything we've ever seen," says the Executive Director of the Port of Los Angeles, Gene Seroka.
With the lockdowns, entertainment and most all social experience- type services had been shut down and people had turned to tangible goods to fill the void in their lifestyles. Big box stores, which include at-home versions of office goods and exercise equipment, did particularly well in terms of sales. For the 10 months of the pandemic, these sales have doubled. Therefore, the port of LA and Long Beach saw a 50% increase in cargo over the second half of 2020. And it hasn't stopped to this day.
Top it off with a Covid-19 infected workforce to make matters worse. Plagued by infections in February 2021, around 800 of the 15,000 longshore workers normally running the twin ports were not working. This 5.3% workforce shortage was due to one case alone and added another layer to the congestion we're still facing.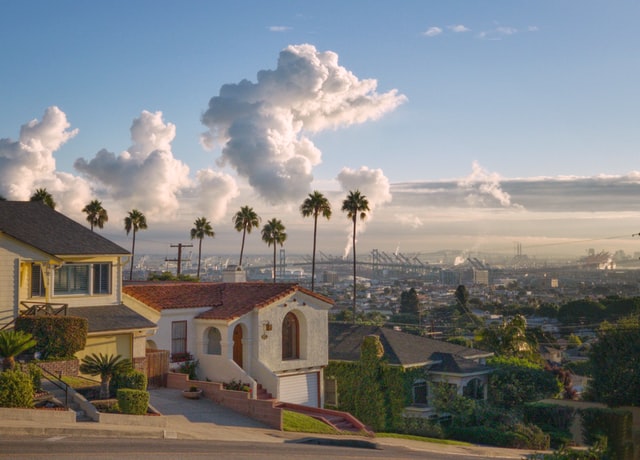 UPDATED FIGURES
In the first month of 2021, the port of Los Angeles saw approx. 5.5% more imports compared to January of the prior year. While Long Beach imports also increased by 17.5% compared to January 2020. Let's remember that, although the first cases of COVID-19 were surfacing in January 2020, it was still just prior to the global pandemonium that ensued later in February and March.
The current peak-season cargo surge that could bring the LA Long Beach ports' volume to a record 20 million TEU this year. Port officials confirm that regardless of the vessel cluster, excessive container dwell times, and rising trucker turn times, they will take on the load. The 20 million TEU for laden and empty containers would be an increase of 15.4 percent from the 17.3 million TEU handled in 2020.
CURRENT STATUS OF THE LONG BEACH PORT CONGESTION
Both Los Angeles and Long Beach currently have a backlog of ships either in port or at anchor waiting to pull in.
On Tuesday 16 February 2021- when the first edition of this article was published, 32 container ships were at anchor awaiting berthing space while 26 container ships were being worked at berth, according to the LoadStar. And then, according to the Daily Breeze, on Wednesday 15 February, the LA and Long Beach ports had 113 vessels either docked or at anchor; with 59 of those vessels either at anchor or drifting. Vessels at anchor in Los Angeles-Long Beach had ranged from 28 to 32 each day for months. And anchor wait times had climbed up to about eight days.
As of 14 September 2021, Lars Jensen of Vespucci Maritime reported: "I am now counting 54 vessels waiting outside Los Angeles/Long Beach – clearly the congestion problems continue to worsen and not improve."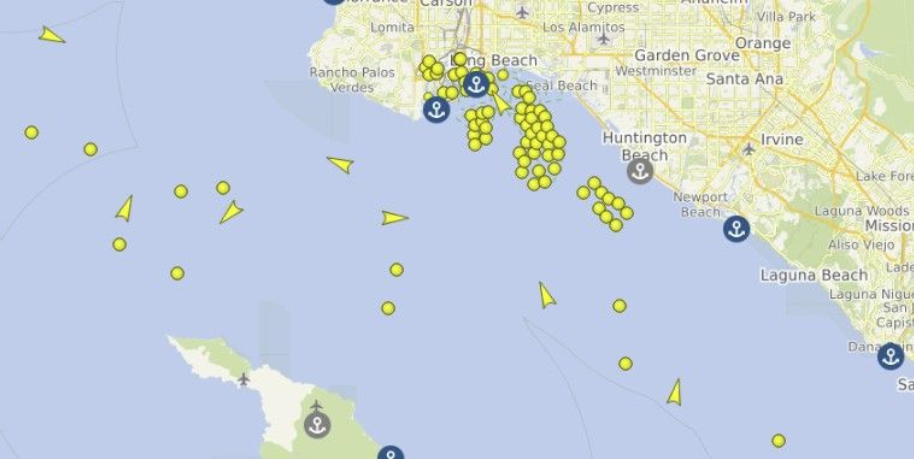 L.A. LONG BEACH PORT CONGESTION EXPECTED TO CONTINUE
All forecasts of the Port of Los Angeles indicate the continuation of a heavy flow of containers incoming.
As accurately predicted at the beginning of the year, the e-commerce boom hasn't let up. The National Retail Federation forecast for the first 6 months of 2021 expected record-breaking import levels and thus cargo forecasts for February and March were predicted to be as much as 34% to 40% more than their respective months in 2020. The latest figures according to PIERSUS show, "imports from Asia increased 32.4 percent in the first seven months of the year over the same period last year, and 21.7 percent from pre-COVID-19 2019."
Get ready for a busy rest of the year. We're in the midst of peak-season with November and December imports also expected to be robust, according to the JOC. The importing of holiday goods comes to a close and shifts to spring merchandise. Retailers are planning to ship spring goods before factories in Asia shut down on 1 Feb 2022.
PROLONGED L.A. LONG BEACH PORT CONGESTION EFFECTS
The L.A. Long Beach port congestion persuaded some ships to be sent to other ports, such as the Port of Oakland. And, as the massive congestion still shows no signs of easing, container lines are looking increasingly for alternatives. Vessels are still being diverted, blank sailings announced and/or the liners are changing the order of port calls.
Back in February, Bob Imbriani, vice-president of Team Worldwide, stated, "Carriers are diverting some vessels or changing the order of ports of call to try and fit into a slot at LA-LB, to at least offload some cargo on a more timely basis. However, there are still significant backlogs in unloading and availability at LA-LB, and we are seeing delays grow at other ports due to the diversions or rerouting of cargo."
As a result, over the past 7 months we've experienced a spike in demand from shippers using the Port of New York and New Jersey as an alternative to the congestion in Los Angeles and Long Beach.
Furthermore, the relentless demand is driving an expansion of the Long Beach Container Terminal. The following improvements are believed to be enough to keep the terminals fluid: addition of 1 million TEU of annual capacity, an 18-acre addition to the Pier S "surge" yard in Long Beach for container storage, and extended gate hours to handle projected record volumes during the next four months.