Shipping containers are the most popular way to move import and export cargo. At any given time, there are over 6,000 shipping vessels carrying containers around the world, and approximately 226 million of these boxes are shipped every year.
Over the last decade, an average of 1,382 containers were lost at sea each year (from 2008 to 2019). The year 2020 saw a drastic increase, with over 3,000 boxes lost in the ocean. So far in 2021, over 1,000 shipping containers have been lost.
These losses may only seem like a drop in the ocean compared to the hundreds of millions of total containers shipped worldwide, but businesses affected by the losses saw millions of dollars flushed down the ocean's drain.
Why have there been so many recent incidents of container ships losing cargo? The risk of losing containers is at the forefront of the minds of shippers and freight forwarders, and 7ConNetwork has the solution for how to protect yourself from situations like this.
What's Covered in This Article:
Severe Weather and Rough Seas Are a Major Reason Cargo Ships Lose Containers
Increased Shipping Demands Have Led to Bigger Ships and More Cargo—and Increased Risks
Our Insurance Policy Has You Covered if Your Cargo Containers Are Lost
Recent Catastrophic Events of Container Ships Losing Cargo
Catastrophic Container Ship Events in the Last 12 Years
Inclement weather can cause shipping containers to be lost overboard or sink the shipping vessels carrying them. Intense winds and rough seas can push ships to their limits and cause damage or navigational issues that lead to catastrophic events like collisions and ship groundings (the ship hitting the ocean floor in shallow waters).
While the reason for the recent increase in shipping accidents is still being investigated, experts believe the increased demand for overseas products has had a hand in it. The pandemic caused a surge in e-commerce businesses and shipping since so many people were buying their products online. This pandemic-fueled cargo boom meant bigger ships with more containers on them were needed to meet the demands. This also meant larger risks of loss and damage.
When you think about how many containers are on a cargo ship, a single catastrophic incident could easily exceed the annual average number of containers lost at sea. Today's largest container ships can hold over 21,000 TEU shipping containers (twenty-foot equivalent unit containers with dimensions of 20 ft x 8 ft x 8 ft). This staggering number of containers would be a major loss if something were to happen to an entire ship.
7ConNetwork partners with an insurance provider to cover your cargo in situations where your containers are lost or damaged.
In addition to 7ConNetwork's payment protection plan that covers your business in cases of delinquent debts from other members, our insurance policy has you covered in cases of lost shipping containers.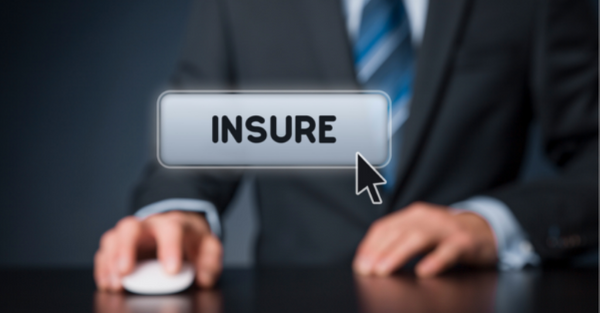 Insurance policies are more important than ever because there have been more catastrophic shipping container losses in the last 8 months than there were in the last decade.
Just some of these recent events include:
February 2021: The Maersk Eindhoven Lost 260 Containers
A power outage and heavy seas caused 260 containers to fall off this shipping vessel.
January 2021: The Maersk Essen Lost About 750 Containers
While going from Xiamen, China, to Los Angeles, California, the Maersk Essen lost 750 shipping containers overboard due to heavy weather.
November 2020: The ONE Apus Lost Over 1,800 Containers
This 364-meter container ship set a record for losing approximately 1,816 boxes last year in the Pacific Ocean. Hundreds more containers on the deck were also damaged. This was the most disastrous in a series of weather-related cargo losses going from China to the United States (Long Beach).
Half of the total containers lost at sea from 2008 to 2019 were from the major incidents, according to World Shipping Council's Containers Lost at Sea 2020 Update. A few of these major incidents include the following, one of which lost an astounding 4,293 containers.
October 2015: The SS El Faro Lost 33 Crew Members and 517 Containers
The tragic loss of the lives of 33 crew members aboard the SS El Faro occurred after the ship got caught in Hurricane Joaquin and sank.
June 2013: The MOL Comfort Sank With 4,293 Containers
This container ship succumbed to bad weather under the weight of additional container loads it wasn't equipped to carry. The MOL Comfort broke in half and sank with its massive amount of cargo after the hull girders failed.
October 2011: The MV Rena Lost 900 Containers
The MV Rena container ship ran aground and resulted in the loss of approximately 900 containers and a 5-kilometre (3.1 mi) oil spill.
Graph courtesy of World Shipping Council (WSC).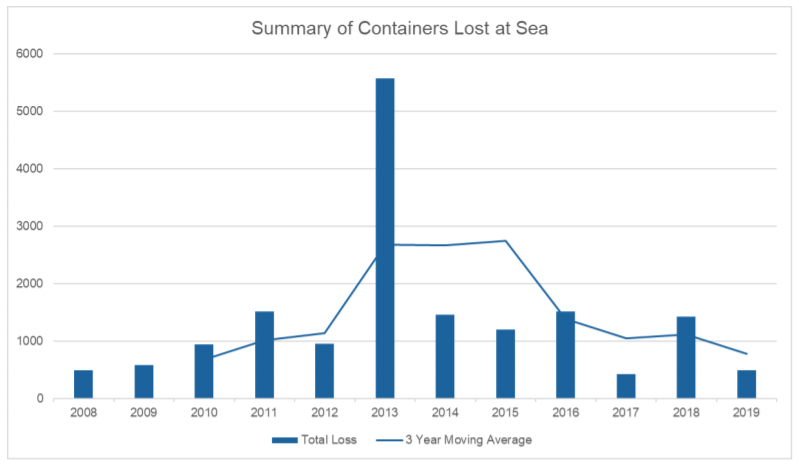 Graph courtesy of World Shipping Council (WSC).
Even with proper organization, packing, and stowing of shipping containers and accurate weight declarations, various other factors can increase the risk of cargo ships losing containers.
Ask about our insurance policy when booking your shipment.
Visit 7ConNetwork's online booking platform now and see how fast, easy, and secure shipping can be!