The 2021 7ConNetwork Virtual Networking Conference took place on the 8th and 9th of September and hosted over 300 agents and partners from all over the world.
Our first session, "The Future of Forwarding Is Here and Now," was presented by 7ConNetwork Chairman, Rob van Grevenbroek. In his presentation, Rob explained how 7ConNetwork got started and why it's the experts' platform for delivery on 7 continents.
7ConNetwork is a digital marketplace that combines an agency network with an innovative global booking and quotation platform. Each of our members is connected to this marketplace, which acts as a booking and receiving agent. Our strategy is for the network to have global multi-modal coverage with a strong position in all main air and ocean ports.
The company was established in July 2019 and was introduced to the market in January 2020. A few months later, we introduced our agent finder and then our booking platform. Meanwhile, we were working on building our own marketplace based on our extensive industry experience to present solutions to the struggles of independent freight forwarders.
We're Not Just Another Freight Forwarder Network
7ConNetwork aims to be the best freight forwarder network in the world. This involves finding the best freight forwarders who are experts in the field. At the same time, we're selective about who we work with and will be allowing a maximum of 500 global agents to be part of our network.
We Are a Tech-Forward Network Based on Extensive Knowledge of the Shipping and Forwarding Industry
Our shipping and forwarding expertise came first, and that drives the technology we use. This is in contrast to many other logistics tech startups, as they generally specialize in tech and don't understand the logistics industry the way we do.
Rob and the team have been in the field for a long time, and when they decided to set up the agency network and booking platform, their goal was to contribute to the industry in a different way.
We combine years of experience and knowledge of the forwarding industry with the latest technology to bring you the very best shipping solutions for your exports and imports.
Even though we're a relatively young company, we already cover over 220 ports in over 60 countries , and these numbers are growing weekly. Now, we are offering select freight forwards the opportunity to join this up-and-coming powerful network.
What Makes the Best Freight Forwarder Network?
In our opinion, the best forwarder network provides real value to help your business succeed. It should be managed by experienced freight forwarders who are knowledgeable of industry trends.
The Best Services a Freight Forwarder Network Can Offer You Include:
Integrated online platform
Sales generation
Exclusivity
Network avenues
global marketing
Global coverage
These are the 7 services that put the "7" in 7ConNetwork.
The Best Booking Platform Should:
Provide new clients to your business
Have been created through the experience of a forwarder
Compare and observe third-party platforms
Provide solutions to the needs of the independent freight forwarder
Have the following :

Multi-modal booking and quotation system
Global coverage
Integrated agency network
Accessible for shippers
Procurement functionalities
Visibility
traceability
Building a Corporate Perspective for the Future
The logistics industry is one of the fastest-growing industries, and the global logistics sector is estimated to reach a value of $16.5 billion by 2026. Because of this, there has been a boom in logistics startup companies and the digitization of transports.
7ConNetwork is continually looking at what's going on in the industry and how we can help our agents grow.
To help our members stay competitive, we offer:
Access to the latest technology
A global network of experts
More qualified leads
Connections with decision makers
The ability to position as a thought leader in the market
The right marketing mix and global marketing services
Better procurement
A Multimodal Approach for Shipping Needs
A lot of other platforms only offer either ocean freight or air freight. The combined forces of the 7ConNetwork platform offer multiple modalities to compare pricing and cargo needs, which allows clients to make the best decisions for them.
We are the biggest platform compared to leading intermediaries, and we are the only one to compare all modalities of transportation (air, ocean, rail, and courier combined with all local port and inland haulage charges).
Our Booking Platform Makes Shipping Fast, Easy, and Flexible
The 7ConNetwork booking platform has an instant quotation tool that provides multi modal rate quotations in under 30 seconds. It's easy to use and allows you to make informed decisions about reliable shipping for your cargo.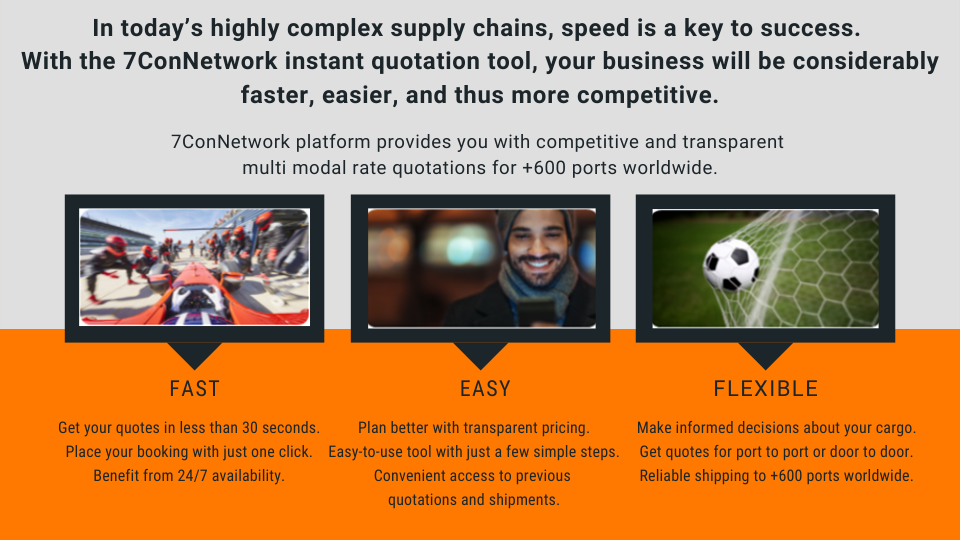 Online Booking Platform Benefits for Agents:
Multi-modal platform
Real-time query for capacity and price
Live quotation and booking confirmation
Visibility via dashboard control
Track and trace your shipments
Transport document process
Online payment system
Find the Right Partner With Our Agent Finder
With our digital Agent Finder tool, you can find, reach out, and connect with the best partner for your business.
Our platform of experts can handle:
general cargo
Ecommerce cargo
Tme critical cargo
Hazardous cargo
Live animals
Project cargo
Anything else you may need
You will also have your own page as a promotion tool for your company. Check out our Agent Finder here.
Why Join 7ConNetwork?
We have KNOWLEDGE of your market.
We drive our platform as a TECH-FORWARD network.
Our target is to be the BEST platform in the market.
We provide INNOVATIONS AND SOLUTIONS in digitalization.
We bring EXPERTS together.
We create BUSINESS through global marketing.
We create COMPETITIVENESS in today's market.
Join Our Network and Let Us Generate Business for You
All it takes is a one-time registration to get access to all of the benefits of the 7ConNetwork marketplace. Join our network and become a member now.