This article covers:
Why trust is important in freight forwarding
How to find the best freight forwarding company in your country
Becoming a leading freight forwarding company
What is a freight forwarder?
Freight forwarders arrange the shipment of goods from one place to another. They operate as an intermediary between the person or company that ships the goods and the person or company who should receive the goods. While forwarders themselves do not physically transport any cargo, what they do is arrange the documentation and involve the correct parties to facilitate the international logistics requirements on behalf of the shipper. On top of arranging the transport of cargo, services like packaging and warehousing are often handled by freight forwarders as well.
Why trust is important in freight forwarding
When it comes to international shipping, finding a trustworthy freight forwarder is critical. Your precious cargo is valuable, and you need to be certain that it is being handled with care and in the right hands. There are many risks in international shipping, so finding an honest and capable freight forwarding agent can help minimize the risk of losing your money and potentially your clients. And as ugly as it sounds, theft is rampant in international shipping. According to ship technology, "the marine industry loses billions to cargo theft and cargo loss each year."
How do I know whom to trust?
To ensure the trust component, companies like Container xChange have created industry peer-review systems to hold shipping professionals accountable for their service and honesty. The best freight forwarder networks partner with these types of companies to screen and monitor the reliability and service levels of their members. These partnerships contribute to the integrity of the forwarder network overall.
How to find the best freight forwarding company in your country
There are 2 ways you can easily find the best freight forwarding company in either your origin country or destination country.
The 7ConNetwork Agent Finder
The 7ConNetwork Agent Finder is an innovative tool designed to help forwarding agents connect with each other to carry out international requirements in new regions. You can easily find the best experts for your shipping needs within the 7ConNetwork global agent network on the Agent Finder tool. Our expert members can handle any type of cargo and can ship to and from any location in the world.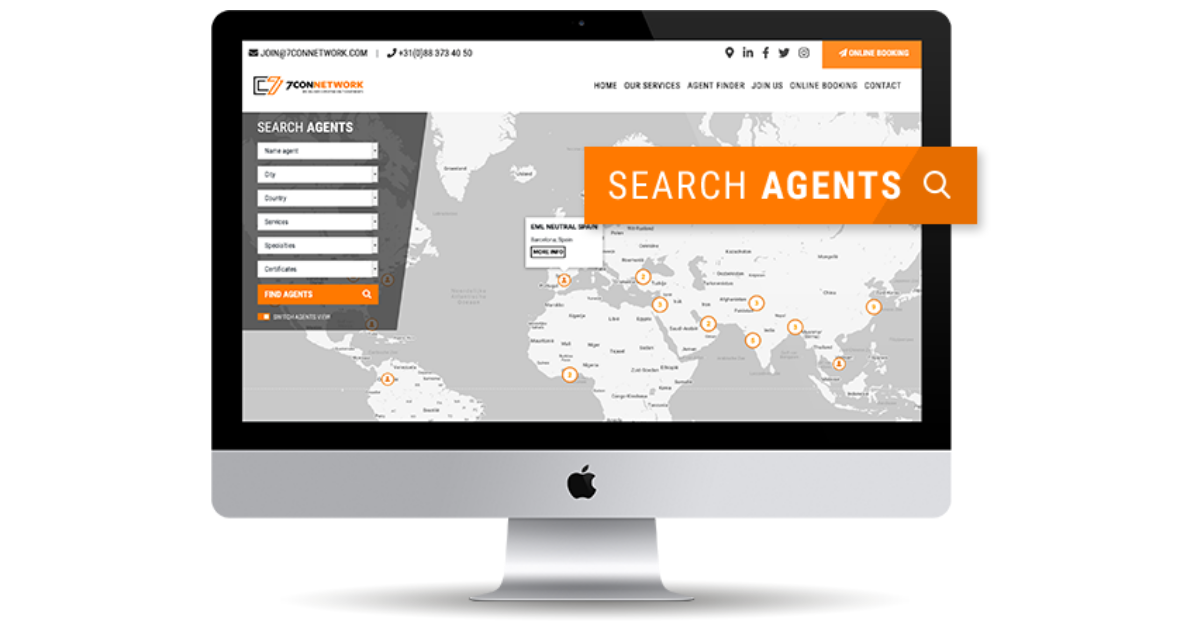 The 7ConNetwork Shipment Booking Platform
As a cargo owner or shipper, the easiest way to find the best freight forwarder in your country is to submit a quotation on the 7ConNetwork Shipment Booking Platform. This online system is backed by expert freight forwarders who have demonstrated and proven to be of high trustworthiness and great quality. Once you submit your quotation, you get an instant freight estimation and upon your booking confirmation, the expert forwarder in your region is automatically at your service.
Become a leading freight forwarding company on the 7ConNetwork platform
In today's competitive market, forwarders are being squeezed from all sides. Memberships in traditional freight forwarding networks are no longer enough to get ahead of your competition. It's time to go digital!
With a 7ConNetwork membership, you can join the industry's digital revolution without the high investment costs on tech infrastructure. You can simply just use ours. After becoming a member, you get plugged into our booking platform and become the designated expert agent of your home port. Send us an inquiry today at join@7connetwork.com to learn about how you can win more business through our unique and innovative forwarder network.