So how does it work and why are some freight forwarder more successful?
Is it because of service level, products, sales and marketing, digitalization or a mix of this all.
What is the sales and marketing approach does it require special infrastructure or specific customer experiences. For sure it does require specific leadership and talents to be more successful in this competitive market.
Freight forwarding companies often still struggle with their marketing. A lot off them prefer the old school sales because they purely believe in personal relationship building. But the world is changing and so does their clients. Consistent growth in the transportation industry does open doors for new competition.
How will established logistics companies running business in a traditional way be able to tackle and compete with all those upcoming digital forwarders? This will require a different business philosophy. The strategies and marketing efforts they replied on are no longer help them to grow. It all does require a next level going into digital innovation!
Question ? Is in today's business digitalization the only key factor to success…
Or is it a mix of freight forwarding products you need to supply to your clients combined with a quotation and or booking platform.
Still today - the most popular types of freight forwarding services are
Sea Freight Service

Air Freight Service

Rail Freight Service

Road Freight Service

Customs Broker
Let's compare freight forwarders with shipping lines and ask yourselves why still the majority of the shippers and consignees prefer to work with a freight forwarder instead of working with a carrier directly. The answer is tailor made service! Customers do have specific needs based on their products and logistics. Plus do not forget all regulations and legal requirements to move cargo from one port to the other.
But there is also a huge need of information to streamline the process off logistics. To be successful data has become a key factor in many aspects of running your business. A lot of the day to day shipping data is still not very reliable. Check the websites of the carriers and you will struggle to get the actual shipping information such as the time of arrival. The problem is even worse in case of transhipment cargo. Have you ever checked one specific vessel – you will learn that information between carriers of this specific vessel within the same alliance is not giving you the same data?
I always question myself how it can be that there is a difference in the vessel rate of exchange between carriers - although the containers are on the same vessel within the same alliance. Let's say you book two containers via two different carriers on the same vessel with different rate of exchange. Can you explain this to your customer? Its not logic at all. That data should be the same.
Freight forwarders therefore have to monitor and compare the data and cost from each carrier and make use of different data sources to keep their clients updated. The future role of information provider of the freight forwarder will become more and more important.
What are good qualifications of a freight forwarder?
There are a couple of major key factors that contribute to the success of a freight forwarder
Freight forwarders are developing specific skills over the years – and create expertise.

Services of freight forwarders are based on flexibility – having several options to choose which carrier is fast, cost efficient, multi-modal solutions

Freight forwarders Combine volumes - having the right procurement to be competitive and sharing those benefits with their clients

Global Networking – choosing their partners based on expertise and reliability

Multi modal solutions – smooth cargo transportation – door to door concept

Data providing & Digitalization – access to several platforms – transport management system

Good and reliable service – improve the reputation of a company and make marketing significantly easier as there is additional value for the customer!
The Expertise of a freight forwarder to become a good forwarder
Expertise is one of the most essential skills to become a good forwarder! The success of a freight forwarding business is for sure based on the expertise of its team. Over the years forwarders do specialized. Having knowledge about local regulations and port requirements. Helping and advising customers how to proceed documentation to ensure that their business will be handled smoothly without struggling with custom formalities and reducing the lead time of each specific order and or shipment.
Flexible service of a freight forwarder
All customers do have specific needs – there is no standard if it comes to the freight forwarding business. Each shipment does require special attention depending on the type of cargo specifications (hazardous, non-hazardous, perishables, project, out of gauge, etc..). How to find the most cost effective way. Do you choose a direct flight or indirect which might take 1 day longer but is 20% cheaper. A freight forwarder will always try to find the best solution for their customer.
To give an outstanding service - it is important that a freight forwarder has the flexibility to deal with each situation individually! Offering the best tailor made solution to their customer.
Competitive pricing
A competitive pricing strategy helps you to prevent losing market share and customers to the competitors as it lets the business control the competition. Price is considered to be one of the most important criteria's for customers while making their final purchase decision.
Customers often do compare prices and are looking for the cheapest way to ship their cargo. Which does not mean that they will get the best deal at the end of the day. How about the surcharges and transit time. Is there a space guarantee? What are the number of free days in demurrage and detention. To be able to give competitive prices you require certain volumes but also the right procurement structure. Pricing departments of carriers are unfortunately more and more centralized.
With all digitalization going on carriers intent more and more to direct you to their platforms to book as spot rates. This makes it difficult for a freight forwarder to offer quarterly deals to their customers.
It's important to organize your procurement in the same manner and in the same places the carriers have their pricing offices. This is why 7ConNetwork is offering procurement as one of their services and creating a marketplace.
Please read more about our services https://7connetwork.com/our-services
Global connections
The top 7 network forwarders do have their own infrastructure all over the world. How will you be able to compete with those network forwarders? Globalisation started many years ago. Customers have their own factories overseas and do get local market information about pricing and services. You need to have a partner who can assist you in those places. If you want to be successful as a forwarding company you do require global connections to be able to fulfil their customer's requirement. The more reliable partners they have, the more services they can offer to their customers. Local representation is important, this is why a successful forwarder is usually part of a logistics network like 7ConNetwork. A platform with experts offering a first class and reliable service to their members. Doing global promotion on behalf of the forwarders and creating business across 7 continents.
Check out our agent finder https://7connetwork.com/agent-finder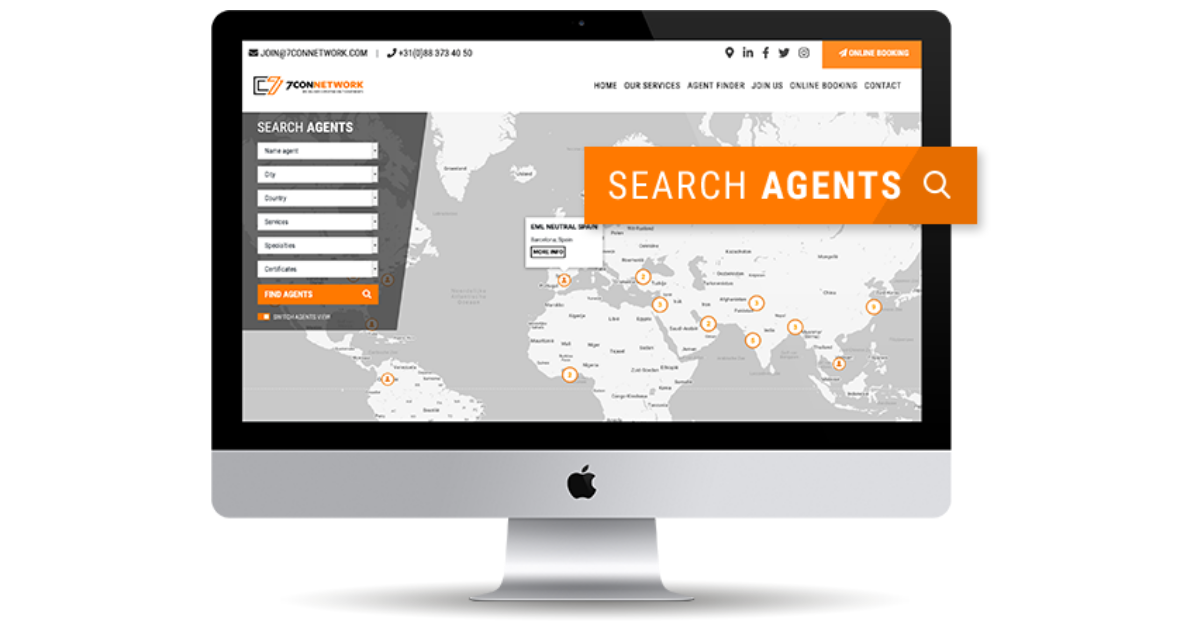 What does multimodal mean in business?
The different modes of transport are air, water, and land transport, which includes rails or railways, road and off-road transport. Other modes also exist, including pipelines, cable transport, and space transport.
Multimodal is defined as the movement of cargo from origin to destination using several modes of transportation. In this instance, however, each mode is operated by a single carrier or multiple carriers, but under a single contract or Bill of Lading.
There are many advantages of multimodal transportation. It's not only the ability to ship worldwide, there are other benefits – for example:
1.Less time and effort
2.Cost reduction
3.Handling and delivery time efficiency
4.Increased transport security
5.One contract to keep track of
6.Easier track and trace
7.The use of multimodal transport bill of lading
Why is logistics data providing in supply chain so important?
Logistics data is important in many ways:
It does create visibility in the supply chain and it enables shippers to improve customer service

It can be used as source of information for evaluating all major Key Performance Indicators (KPIs)

For analysing logistics costs by a breakdown of mode, carrier, region, vendors

For analysing reliability of services and performance of vendors and carriers

For analysing and optimizing the supply chain situation of a client

For sales and marketing purposes
All data, including transportation information, should always be treated with the utmost sensitivity and confidentiality. Logistics data is important for all supply chains. To have the correct outcome of all evaluations and analyses - It's important to have updated and historical data within your company.
For a freightforwarding company its essential to have a state of art Transport Management System (TMS). In which everyone is working from the same database so that information entered at the orgin station will be (real time) available at the station of destination as well. With all shipment data in one platform efficiency will go up, reduce time and costly errors.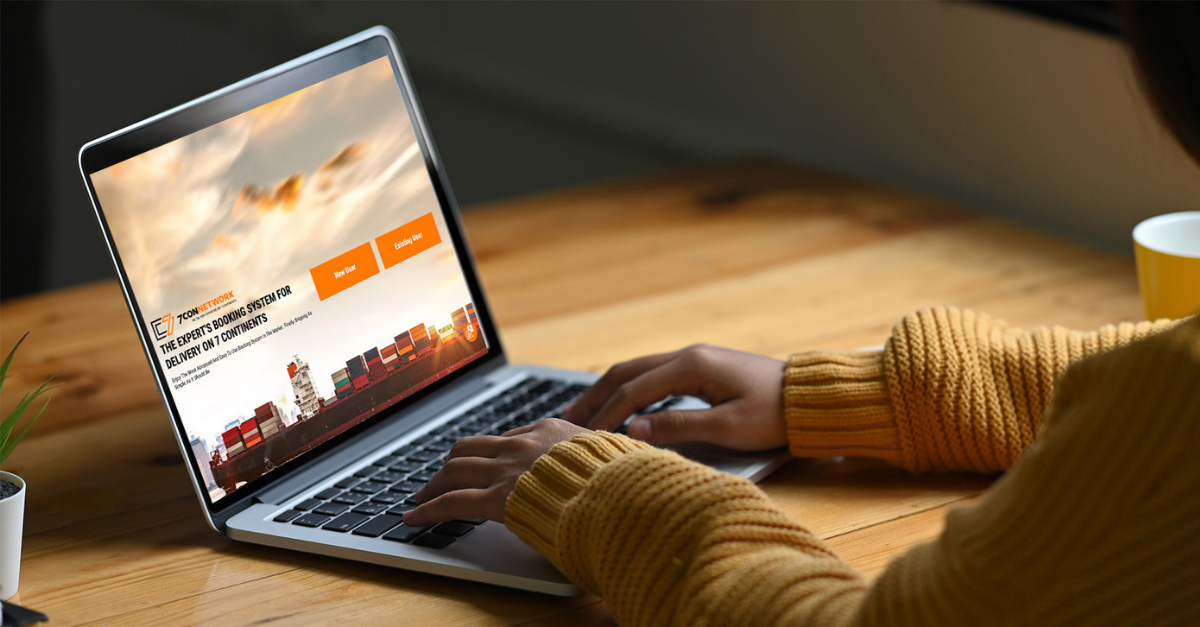 Good and reliable service of a freight forwarder
A good brand reputation results in higher sales and profits for many reasons. Improved trust, customer retention, brand advocacy all lead to more sales. A good reputation also allows you to charge a premium for your products and services without deterring customers who see your brand as valuable and desirable.
A good and reliable service towards your customers is a must, increasing your service level, providing the best customer experience available in the market.
How do you increase the service level of a supply chain?
You can improve efficiency and raise the bar regarding your productivity and service levels by automating your supply chain management processes. Introducing new technologies to speed up simple tasks will improve productivity, but also bring a level of consistency to your operations.
7ConNetwork offers you the most comprehensive online freight quotation and booking system, covering the entire online quotation and booking system. Included within the network membership fees at no extra cost!
ACHIEVING SUCCESS FOR YOUR FORWARDING BUSINESS IS AS EASY AS 1,2,3…
Now that you know some of the many aspects that classify a freight forwarding business as successful, it is time to start thinking what you can do to improve your business and make it even more successful.
When you join 7ConNetwork, you not only get connected to like-minded forwarding experts, you also get plugged-in to our state-of-the-art online booking platform. Plus we handle the Marketing and Promotions on your behalf, which are guaranteed to bring in new business for you. Additionally, you gain procurement advantages and access to other solutions to improve and broaden your service offerings.
KICK-START YOUR PLANS FOR SUCCESS SIMPLY FOLLOW THESE 3 EASY STEPS
Fill out the online form

Get plugged into the world of 7ConNetwork*
Or mailto:join@7connetwork.com to schedule a free consultation and learn more about how we can assist you in growing your transportation business.