Quick update on rates
Chinese main ports are now witnessing a decline of new bookings to Europe for the next few weeks. With exception of Shanghai and Ningbo still seeing plenty of export orders, many of which are from backlogs that didn't get shipped before Chinese New Year. Will this softening of the markets exert downward pressure on the record high rate levels? Most likely yes, but by how much remains to be seen.
At this point, there is little hope for a substantial decrease in spot rates. Shippers that had strategically held back on signing new contracts are now agreeing to highly inflated new contract offers. Recent data suggests that carriers winning this particular battle, as market price hikes are getting locked-in to new long-term contract agreements. Thus shielding them from spot rate market volatility.
A shortage on the horizon
And yes, equipment shortage is still a hot topic. Everyone hoped for some sweet relief following Chinese New Year. And while a decent stock of empty containers was built up during the Chinese holiday, this stock is moving out quickly- speculated to be all out the door by the beginning of April.
In South and Central China, tell-tale signs of a box shortage are resurfacing. Demand for goods coming out of Asia is projected to spike again as US American consumers receive their second round of government issued economic stimulus checks, more than double the amount of the checks sent out last time. The indirect effects will then quickly spill over on to the Asia Europe trade lanes, as demand for boxes outpace supply yet again.
Also keep in mind, the Port of Los Angeles is still sitting on a ton of empty boxes that need to get back to China, asap.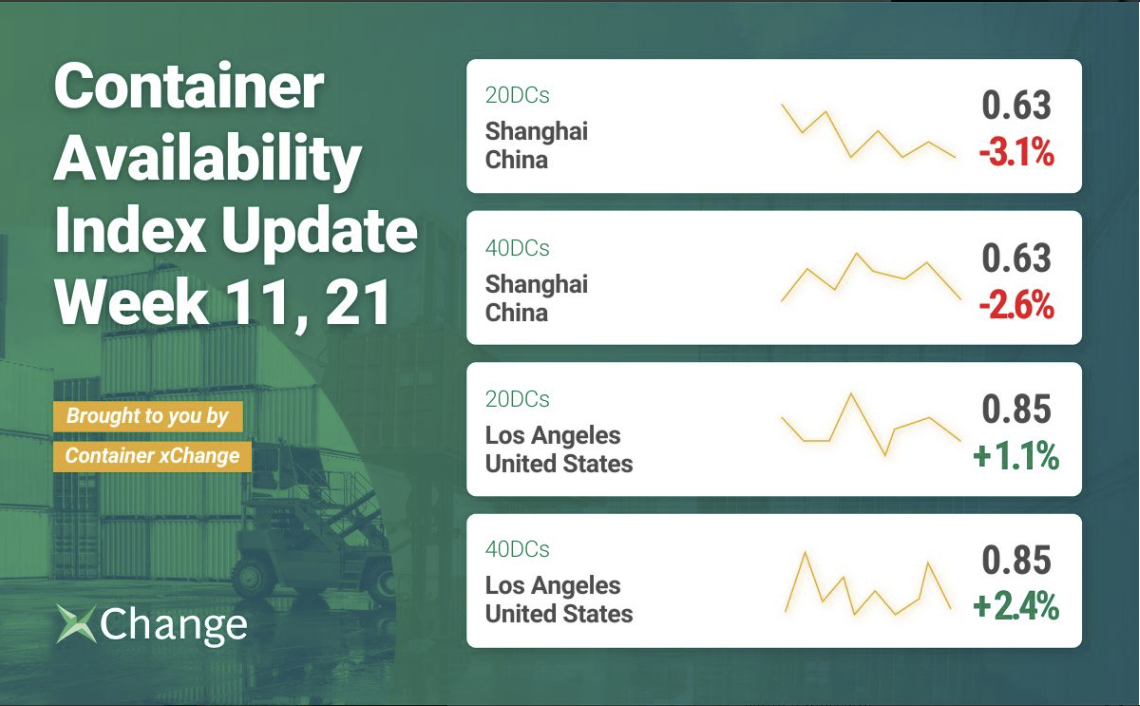 Note: A reading of 0.50 represents a balanced market.
Congestion and too many boxes on the European front
While China faces shortage, the UK ports are growing their empty container stock piles. UK port congestion has led to a critical build up of empty boxes at their ports and depots, especially at Felixtowe and Southhampton spreading out now to Liverpool. Peak vessel demand at Liverpool last week brought severe delays and waits for haulers at the Liverpool port.
The latest container availability index from 7ConNetwork partners, Container xChange, recorded a stark rise in the number of empty containers. The availability of 40ft equipment in Liverpool has jumped up from a reading of 0.59 last year to 0.75.
Demand spikes and lower capacity growth largely contribute to the current rate environment. But slowing demand may be on the way. If Europeans slowly come out of lockdown, EU consumers will most likely shift their spending back to services over goods. Export orders have been showing signs of deceleration, but it is anyone's guess if this is a temporary slowdown or a semi-/permanent decline. Regardless, this should exert downward pressure on the current record high rate levels.
And the carriers carry on
Carriers seem confident of their ability to hold up rates and of continued tight demand. Their capacity management has improved through increased blank sailings, lower sailings speeds and suspension in service for some routes. They're at a historical low in terms of ordering new containerships, and must cope with the uncertainty of capacity around environmental regulation in the near future.
Until the new regulations become clear, many carriers will likely utilize slow-steaming to reduce emissions, consequently further limiting capacity. Experts predict that if carriers maintain this discipline, they'll have power to balance capacity against demand and maintain control of pricing the whole year. Shippers might just have to accept and get used to a higher-rate environment.
Navigating Asia Europe trade together
China was the only major economy that grew in the pandemic year. They experienced a 2.3 percent growth, and will continue this upward trend in 2021. China's economy is expected to grow by more than 6 percent this year.
In terms of Asia Europe trade, we can gauge the situation by taking a look at the strongest economy in Europe. German exporters have been able to deliver 31.1 percent more goods to China in the first two months of this year. And Chinese exports to Germany also rose by 71.2 percent. On the whole Chinese exports to Europe have risen 62.6 percent, with imports rising 32.5 percent.
With expert forwarding agents like TCI International Logistics covering the main port in Germany and TCG Global Logistics covering the main port in China along with adequate coverage in Europe's largest ports of Rotterdam and Antwerp, 7ConNetwork has got you covered. View all member details on the 7ConNetwork Agent Finder and join us in a powerful up-coming network of expert freight forwarders.